⊆ 6:49 PM by A. Liebendorfer |
men
,
sex
,
women
. | ˜
8 comments »
A lot of articles are floating around there written by women about men.  A lot.  When things are going slow --and let's face it, we're on a six-week break here-- sometimes I like to skim through one or two and just meditate what They have to say about Us.  
It seems like I'm sneaking across the front lines in the dead of night every time I do, though.  The conviction!  Sometimes it almost feels like women think men get together and convene about what the next salvo of jerks we're going to send their way will be like.
This article I found today
has me convinced that somewhere out there women have a two-word nomenclature for men.  It's probably in feminese or chicklish or some language every man wants to learn.  I just have to look a little harder, I guess.
The Homme Fatale (or grammatically correct, L'homme Fatal) is apparently manhood's answer to the age-old Femme Fatale stereotype.  The writer describes L'homme Fatal as just the opposite to its fatal female counterpart: intellectual, not necessarily attractive, self-effacing, but somehow still confident.  L'homme Fatal plays the emotional game, and rarely pushes for physical relationships, which, coupled with their typically boyish features and voice, makes them seem innocent. Once they're in, they wait a few months and then bail without a word.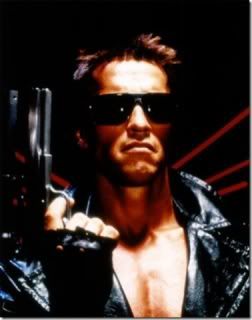 These new operatives in The Battle of the Sexes are reportedly very hard to detect.  They are normally flanked by a posse of women that would otherwise be out of their league, which can be mistaken for almost anything.  A relative, a gay friend, a boss, or even a sugar daddy.
You know, I don't think this is anything new.  
We skinny runts have been around for ages.
 I hate to say it, but women are finally just catching on.  First to go was the spousal abuser, and we can all agree that was for the better.  Then they went after the one-night stander.  And now the average dude looking for a pretty lady is under the gun.  [Enemy code name:
emosogynist
]
For L'homme, it is all looking very fatal.  Who knows?  Maybe one-night stands will be fairy tales for our grandchildren, which isn't a bad thing, only a sign of the times.
Yes, very fatal.